Welcome friends and North River Fronts Neighbors and Businesses! Things are moving and shaking in a good way in our little piece of Eau Claire. Phoenix Parkside is booming! Businesses are filling up and there are waiting lists for apartments and condos.
Responsible landlords are investing in some of our rental properties and home owners are encouraging each other to take pride in their properties.
A lot of these advances have been possible because we have an active and interested neighborhood association.
---
Meet the Candidates
We sat down and talked with several candidates running in the Eau Claire City Council, Eau Claire City Council President, and Eau Claire Area School District Board elections coming up in April. If you'd like to learn more about the candidates and have the chance to meet them yourself, join us at the candidate forums hosted by the Eau Claire Area Chamber of Commerce, the Leader Telegram, Wisconsin Public Radio, WQOW News 18, and Valley Media Works.
Eau Claire City Council President
CVTC Main Campus
March 7, 2019
6:30 PM

Eau Claire Area School District Board
CVTC Main Campus
March 14, 2019
6:30 PM

Eau Claire City Council
At-Large
CVTC Main Campus
March 21, 2019
6:30 PM
---
Mark Your Calendars!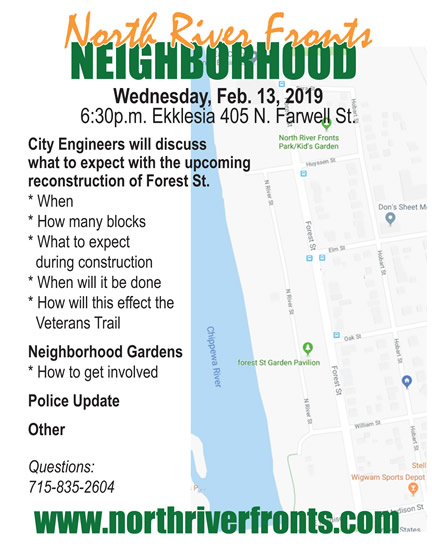 Questions Call Bob or Tami - 715-835-2604
---

Presentation of the Veterans Trail Project at the March 14th neighborhood Assn. meeting.
North River Fronts Neighborhood Meeting- Summary
Outcomes:
- Rental Registration and Inspections - Here are the Eau Claire City/County Rental Registration Rules. All rental properties need to register and be prepared to have inspected appx. every 5 years. Objective - to ensure safe and secure rental properties in the City of Eau Claire.
- Veterans Tribute Trail - Mark Beckfield and Bill Boettcher showed a video that depicts the Forest St. Tribute Trail.
- Neighborhood Steering Committee -Tami told attendees that the neighborhood is past due in electing neighborhood representatives. We will hold an election at the next meeting that we have at least 10 neighborhood members in attendance.
- Industrial Rezoning (Bottlery) - Bob summarized a joint meeting between John Mogenson (developer), visionaries from Work With Odd, and the City of Eau Claire Planning department. The City advised that John prepare an initial plan for the Bottlery, and Serena and Elle work with the neighborhood to host a meeting that would garner approval for the Bottlery project. A meeting is being planned to inform neighbors and the neighborhood as a whole. This meeting is anticipated in early May of 2018.
- Neighborhood Police - There has been a concerted effort to reduce drug trafficking in the neighborhood and city as a whole.
---
Neighborhood Meeting Summary
Wednesday, November 15th 2017
Tempo Coffee House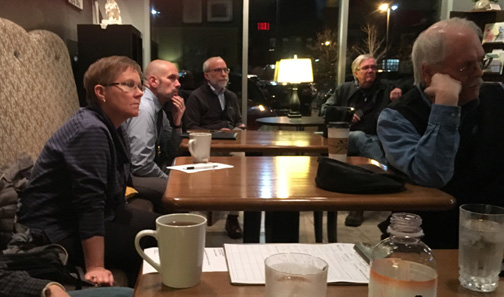 We had the neighborhood meeting on Wednesday and got a good discussion going on severals subjects:
1. We talked about rezoning a Industrial block to something that would allow retail /residential/performance. The group agreed that this type of zoning would complement the good things that have happened on North Barstow, the High Bridge and the Cannery District. We voted to start the re-zoning process and to meet with City Staff to start making it happen.
2. We passed around the Tribute Trail animation for all to see. Everyone agreed that there is way more trail in the video than there is land in those three blocks, Folks want to see the trail develop and compliment the activities that are happening now.
3. We announced the availability of FREE sidewalk sand at the City Shops - bring your bucket and use to keep sidewalks free of ice this winter.
4. We learned that Jim Southworth will be taking Tim Golden's place as the North Side police officer liaison when Tim retires this spring. (Thanks Tim! Welcome Jim!)
5. We agreed that the Neighborhood meetings should take place Quarterly or as needed. New steering committee members are welcome and an election should happen at the next quarterly meeting...Feb/March?
6. We talked about where to meet and decided to explore the Owen Rust Community Room - The Local Store - The Forest St. Pavilion weather permitting - Other.
Meeting Adjourned at 7:58!
---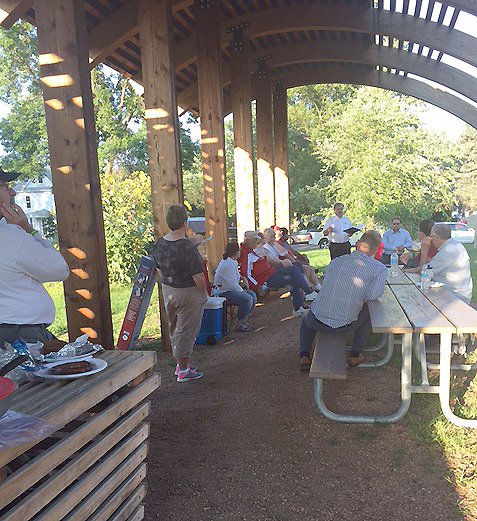 Thanks to all that joined us on a beautiful August evening!
Thanks to the Veterans for providing the grill and brats!
Mark Beckfield and Jeff Pippinger answered questions
about the future Tribute Trail.
Sorry we didn't see any plans - The city and FEMA are going back and forth. Looks like they are planning on construction in 2019. Gardening should go as is for one more season.
| | |
| --- | --- |
| | Gardeners, Veterans, and Neighbors met to talk about the Tribute Trail. Vets presented the neighborhood with a US flag and stand - we'll make sure it gets placed in a great place. |
---
Neighbors
A Volume One Expose about neighborhoods
Phoenix Park Successes!
an article about the apartments and lifestyles of folks in the new apartments.
Bike Fix It Station
In Phoenix Park by stand alone water fountain

Welcome JAMF!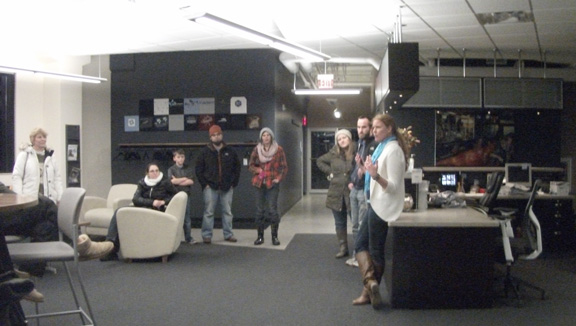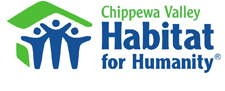 Brush with Kindness
There were lots of people in the neighborhood
on Friday, May 2nd, 2015!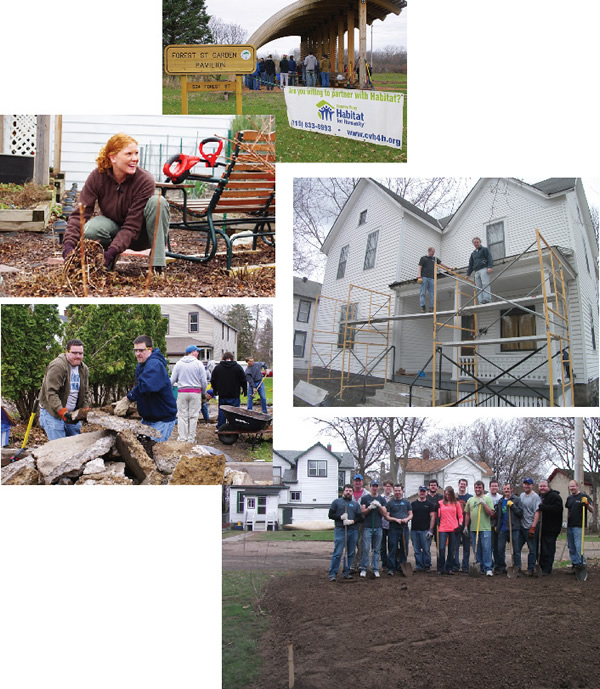 Thanks to all that participated!
Habitat is touching the lives of more and more people
---

Pavilion Dedication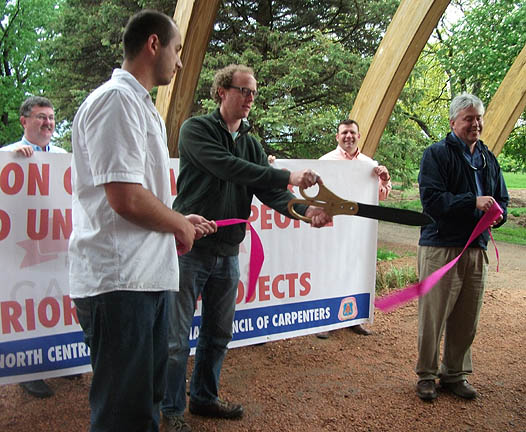 At 4:45 the skies opened up and it poured until about 5:30.
There were sirens blaring and cars lining up on the street.

We caught a break and were able to do the ribbon cutting! Thanks everyone!
Thank the team that raised funds to build the pavilion and the union members and M&J staff that built it for us!
---
Thanks Andrew for visioning the 2012 Gardens!
The area is beautiful and so full of energy! Thanks to the rental plot gardeners - the partnership for pollinators - UW-Extension and Americorp Vista and to the oodles of friends and neighbors who have helped this area grow and provide food for many in the Chippewa Valley!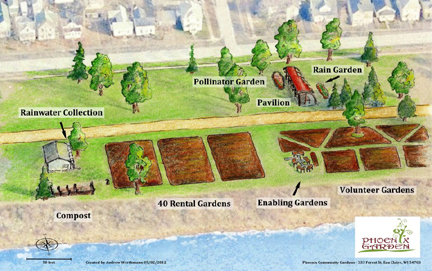 Volume One - Phoenix Gardens to Get Swanky Pavilion